2023 F-150 Lightning
Preproduction computer-generated images shown throughout. Available spring 2022.
Preproduction Model Shown
ALL ELECTRIC. ALL F-150.
The Ford F-Series, the best-selling trucks for 45 years*, are now charging into the future with the 2023 F-150 Lightning. This is the Ford F-150 that you know and love running totally on electricity. It's still capable of towing and hauling. It's still off-road-ready. And it's still loaded.
See your potential gas and scheduled maintenance savings when you drive an electric vehicle like the new Ford F-150 Lightning and blaze ahead into the future with impressive towing and hauling specs. This is another step ahead for Ford pickup trucks, and you can find out more with Holiday Ford.
Learn More
100% Electric
With a growing demand for forward-thinking technologies and options, the new Ford F-150 Lightning leads the way as an all-electric pickup truck. This is a more-than-capable pickup that won't require any gas stops or oil changes. And when the lights go out, the available Ford Intelligent Backup Power turns your F-150 Lightning into a backup power source for your home when your home is properly equipped.
Advanced Technology
The new Ford F-150 Lightning is cloud-connected, it's adaptive, and it's voice-responsive. You couldn't ask for more connectivity options when it comes to the Ford F-150 Lightning. You can make the Ford F-150 Lightning your very own with plenty of new technologies right at your fingertips, and this is disruptive innovation that results in breakthrough innovations for when you're at the job or on your way back home.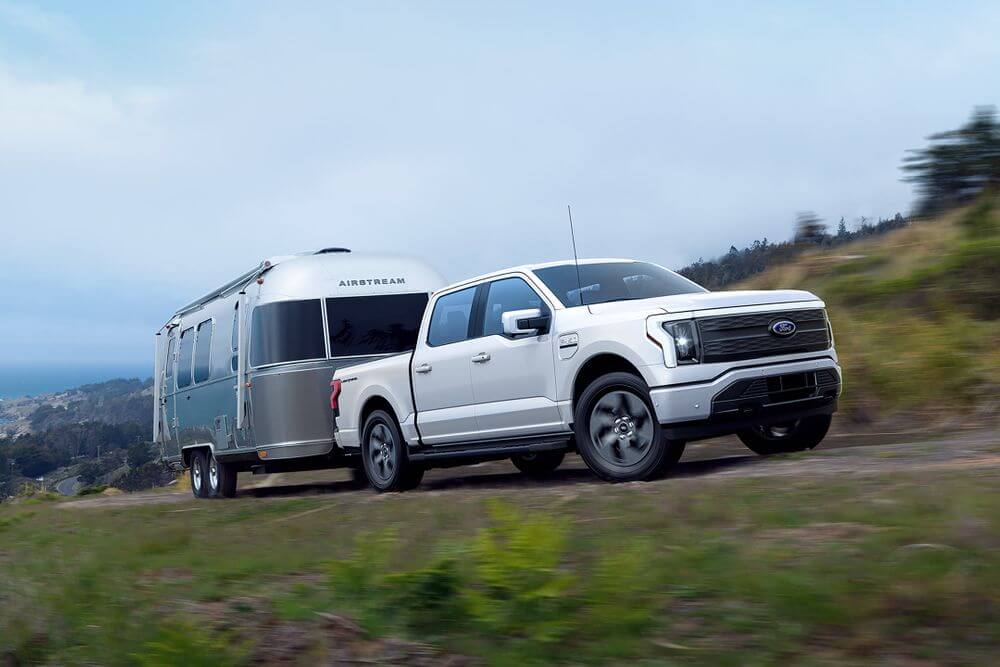 BUILT FORD TOUGH
Do everything that you would normally do with your Ford F-150 with the 2023 F-150 Lightning. Go ahead and do all of that towing and hauling with confidence, whether you're out on the highway or off the road. The new Ford Lightning is more than capable of taking on your heavy jobs without breaking a sweat.
Learn More About the 2023 F-150 Lightning
Contact Holiday Ford to learn more about the new Ford F-150 Lightning and how to order your next new Ford vehicle. The new Ford Lightning is ready for anything on the road ahead thanks to all-electric technology, the specs and performance that you expect, and plenty of customization options.

Disclaimer:
*Based on 1977-2021 CY total sales.
**At purchase, the FordPass Connect modem is connected and sending vehicle data (e.g., diagnostics) to Ford. To disable, or for more information, see in-vehicle connectivity settings. Learn more at FordConnected.com.